About the Exhibit
---
Written by Sarah Panzer



The Future Happened is an exhibition that examines how design and art deepens our relationship with music.
Exploring how design can be key in sharing our stories and amplifying our power to make a difference in the world. Examining innovation and technology that enhances connections and opens doors, reinforcing our capacity to spark change.
We live in an exhausting cycle of consumption, challenging news headlines, and tumultuous politics, all of which make it easy to slip into passive acceptance of the status quo. But, alongside this narrative, artists and innovators are vying for our attention, hoping for their visions to be realized, their voices heard, and their work admired. The change these artists and innovators can bring may happen slowly or all at once, but it is already underway. The future is here—waiting to be uncovered.
An exhibition that centers on creatives who invent new realities through design and music, The Future Happened dives into everything from the origins of the LP covers that your parents loved to augmented reality audio production. Rooted in Atlanta, the exhibit charts the city's vast sphere of influence — from local to interstellar — while also highlighting individuals and communities from around the globe. Examining innovation in design and technology that deepens our relationship with music, we open our eyes to new and radical narratives that have the power to transform our ways of being in the world.
The Future Happened
First, some history. With the advent of streaming and digital media in the past 20 years, the ways in which we consume, share, and experience have shifted dramatically; and not only have our connections changed, as have the relationships of musicians to their work. Once standard methods of creating and performing have been reformed. Success is no longer gauged from album sales, but streaming statistics, leading to a massive transformation in the music industry's function. Today, over 1 billion people use YouTube solely for streaming music, not to mention the hundreds of millions of users on streaming platforms such as Spotify, Tencent, Pandora, or Apple Music (Music Ally). As algorithms in these systems adjust to listener's habits, so must musicians adjust to find profit. According to a 2014 distillation of Spotify data, there is a 35% likelihood that a user will skip a song within the first 30 seconds (Lamere); and because artists only get paid for streams over 30 seconds, this has incentivized shortened intros and prompt lyrical introductions. Music festivals have expanded to virtual experiences, artists live stream concerts via social media, and ticket sales (both virtual and in-person) help fund social justice movements.
Under the surface, distribution networks have moved online, financial models have been converted, and analog music production has become digitized. On streaming platforms, although it seems we are left to our own devices, we are often fed recommendations and playlists based on algorithmic interpretations of our listening habits. This shift to personalized music insight and discovery can be largely beneficial for the individual consumer and successful independent artist. However, it also leads to a decline in identity; for example, like-minded artists are less often grouped together through a label. And despite the many downsides of labels, it is in part thanks to these groups that we've seen the emergence of small pockets of culture, exploration, and innovation in the music space.
One invisible factor has not changed—who gets paid and who does not. Even as the internet makes it easier and easier to become an independent musician, major labels still dominate the charts and collect a hefty profit. On top of this, streaming platforms collect a cut of the returns. Artists, who were formerly compensated per individual track sold rather than streamed, yet need the label's access to status, are left with little profit.
There have always been problems with inclusion, diversity, and equity in the music industry. It's in these issues we find ourselves turning to listen to those most affected by it—the artists and musicians themselves. We want to learn—how can we break down exclusionary barriers and how can we rectify equity, inclusion, and accessibility in the music industry? How has the shift to algorithmic discovery continued to perpetuate pre-existing biases in who is allowed to be successful? How has our agency and ability to freely discover new artists changed their opportunities since the advent of streaming? With these questions in mind, we also look to how design shapes our interactions with music. How can design be used to open the doors to accessibility? How do we engage different audiences, different communities, through the coalescence of music and design? How does this union bring power and strength to change?
The Future Happened was organized to give voice to this power and the movements within this community, and to bring attention to issues that we unavoidably face as time and innovation continue forward. The exhibit explores the vast capabilities of music and design, from its ability to change and preserve culture, inspire protest, empower and heal communities and individuals, facilitate reflection and reimagination of the past, and to bring us forward into the future.
Welcome.

We are so excited to show you what you've missed.
Exhibition Sponsors
This exhibit wouldn't be possible without the
help and support of our sponsors.
---
Gretchen Gonzales Davidson
& Ethan Davidson

---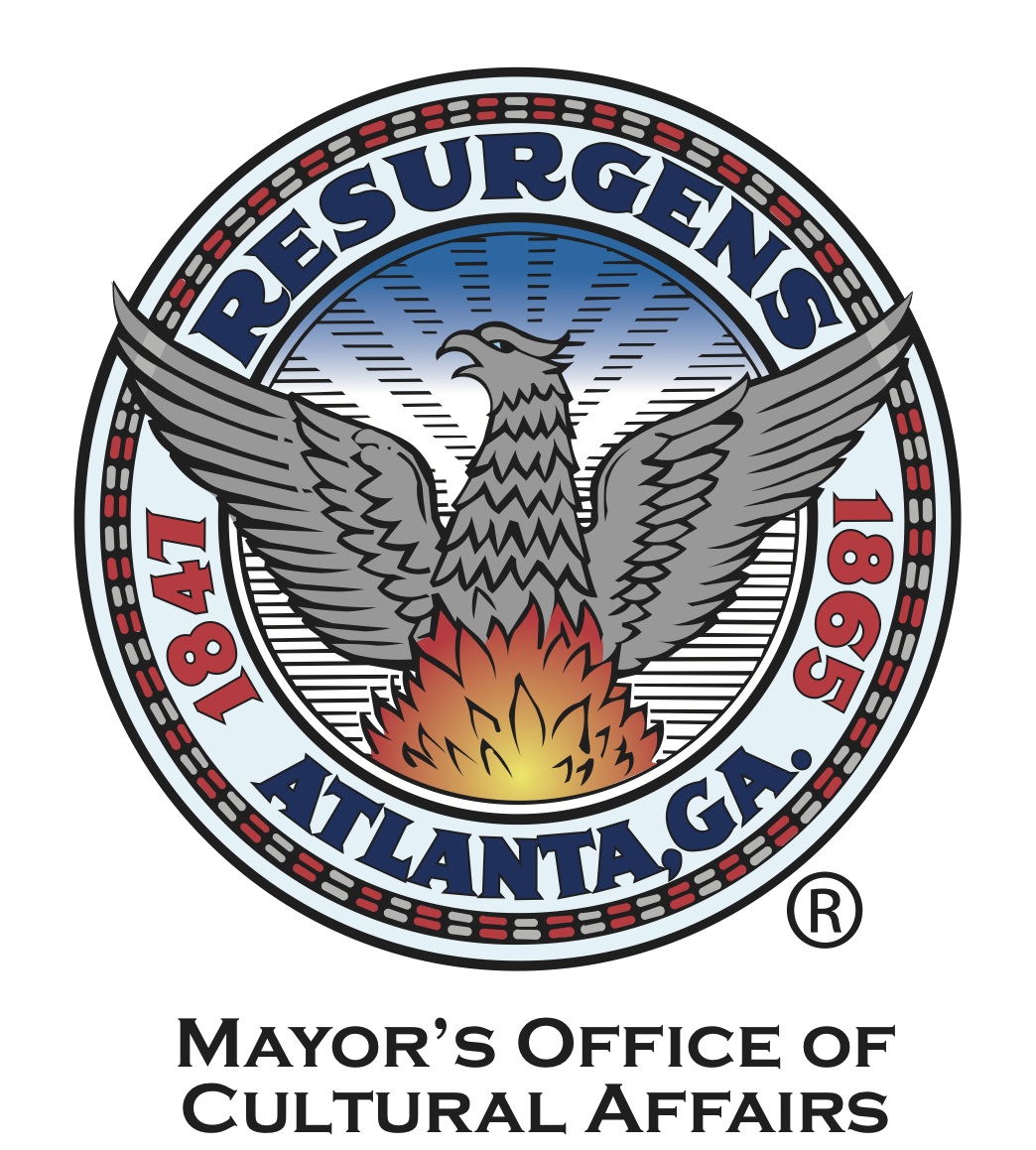 City of Atlanta Office of Cultural Affairs
Major support is provided by the Mayor's Office of Cultural Affairs
---
Fulton County Arts Council
Funding for this program is provided by the Fulton County Board of Commissioners